We See, We Voice, We Act
Dear Delegates and Faculty Advisors,
In 2022, the world spread global pandemic has entered its third year. Still, we continue to fight the epidemic while learning to coexist with it, it seems that the pace of living has slowed down, but it seems to be evolving rapidly.
When we celebrate the 2022 Beijing Winter Olympic and Paralympic Winter Games, we fully believe that sports have no borders and that the world is a whole unit. At the same time, we are also shocked and heartbroken by hearing about the situation in Russia and Ukraine. The continuous recurrence of the epidemic in our country seems to have cast a shadow on the unidentified sunshine again. In this era, we must not only see the world with our eyes but also use our hearts to speak out and make changes for the world within our capabilities, which is the meaning of this year's WEMUN EXPO theme WE SEE, WE VOICE, WE ACT. When you are in a MUN conference, seeing the problem, making a voice, and solving the problem runs through the whole process, and we also hope that this theme not only exists in the MUN conferences but also penetrates the lives of the delegates, so that everyone can be more active in finding problems, speaking out bravely and making changes in their daily lives.
This summer, On behalf of the Secretariat, WEMUN EXPO 2022 will be held from 2ndto August 5th, 2022. Meanwhile, we decided to set up several online committees, we will definitely ensure and bring the experience to you online. We keep all the in-conference activities to make sure you enjoy the conference as much as you can from home.
WEMUN EXPO Online 2022 Organizing Committee
Online Committees and Topic
MODEL UNITED NATIONS OF UNIVERSITY OF CHICAGO (MUNUC)
United Nations Human Rights Council (UNHRC) -Elementary-47
Topic B: Women's Empowerment and Global Sustainability
Committee Type: General Assembly
Organization of American States, 1997 (OAS) – Intermediate – 33
Topic A: The Situation in Colombia, 1997
Topic B: El Niño Event, 1997-1998
Committee Type: Regional Bodies
United Nations Security Council (UNSC) – Advanced – 15
Topic: Nigerian Civil War, 1966-1970
Committee Type: Specialized Agencies (With Single Crisis Session)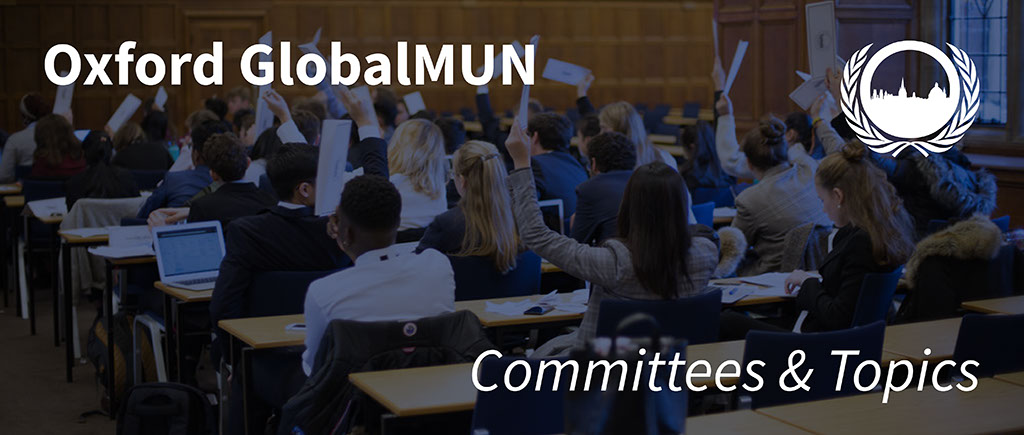 OXFORD GLOBAL MODEL UNITED NATIONS(OXFORD GLOBALMUN)
Economic and Financial Committee (ECOFIN)-Elementary-50-60
(*Online Committee)
Topic A: Regulation of Cryptocurrencies
Topic B: Preventing a New Financial Crisis
Committee Type: General Assembly
World Health Organization (WHO)-Elementary-50-60
Topic A: Pandemic Management
Topic B: Gene Editing and Disclosure
Committee Type: Specialized Agencies
United Nations Security Council (UNSC)-Intermediate-15
Topic A: Peacekeepers in the 21st Century
Topic B: Preventing an Arms Race in the Arctic Circle
Committee Type: Specialized Agencies
UNITED NATIONS FOR MODEL UNITED NATIONS(UN4MUN)
ECOSOC Youth Forum – Intermediate – 20-30
Topic: The Implementation of Model United Nations
Committee Type: ECOSOC
United Nations Human Rights Council (UNHRC)-Elementary20-30
(*Online Committee)
Topic: Bridging Gender Digital Divide during the Pandemic
Committee Type: General Assembly
WE MODEL UNITED NATIONS CONFERENCE(WEMUNC)
联合国西撒哈拉调查团(1990)– Intermediate – 15-30
议题:西撒哈拉公投与停火解决方案
委员会类型:Specialized Agencies
环球影业董事会 – Intermediate – 15-30
(*Online Committee)
议题A:环球度假区的国际拓展
议题B:环球影业旗下IP授权与运营
委员会类型:Specialized Agencies
国际体育仲裁法庭 – Advanced – 25-40
议题A:运动员药物检测的规范
议题B:国际赛事筹备阶段的潜在风险
委员会类型:Specialized Agencies
WEMUN EXPO 2022
Conference Schedule – For Online Committees
| | | |
| --- | --- | --- |
| 2022.08.01 | |   |
| Beijing Time | Oxford Time | |
| 20:00-22:00 | 13:00-15:00 | UN Online Visiting Icebreaking |
| 2022.08.02 | |   |
| Beijing Time | Oxford Time | |
| 17:00-18:00 | 10:00-11:00 | Opening Ceremony (Synchronously broadcast the opening ceremony with offline committee) |
| 19:00-22:00 | | UNHRC – Conference Session1 |
| 20:30-23:30 | 13:30-16:30 | ECOFIN – Conference Session 1 |
| | | |
| --- | --- | --- |
| 2022.08.03 | |   |
| Beijing Time | Oxford Time | |
| 14:30-18:00 | 07:30-11:00 | ECOFIN/UNHRC – Conference Session 2 |
| 19:00-22:00 | | UNHRC – Conference Session 3 |
| 20:30-23:30 | 13:30-16:30 | ECOFIN – Conference Session 3 |
| | | |
| --- | --- | --- |
| 2022.08.04 | |   |
| Beijing Time | Oxford Time | |
| 14:30-18:00 | 07:30-11:00 | ECOFIN/UNHRC – Conference Session 4 |
| 19:00-22:00 | | UNHRC – Conference Session 5 |
| 20:00-23:30 | 13:00-16:30 | Committee Session 5 |
| | | |
| --- | --- | --- |
| 2022.08.05 | |   |
| Beijing Time | Oxford Time | |
| 11:30-12:30 | 04:30-05:30 | Closing Ceremony & Awards Presentation (Synchronously broadcast the closing ceremony with offline committee) |